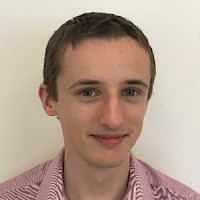 Tom McLaughlin
Digital Learning Systems Administrator (Argyll & Bute Council)
What is it you do? Describe your job and the ways it links to STEM
As a member of Argyll and Bute Council's Digital Learning Team, I provide support to education staff, run STEM and digital sessions with pupils, and manage various systems and platforms used in connection with education (such as Glow) or education technologies (such as mobile device management).  Activities we run in schools often make use of technology to explore various aspects of STEM, such as developing maths skills by programming robots to move at the correct angles and durations to navigate a course.  We've also explored scientific topics, such as in a "Mission to Mars" event at Dunoon Grammar School and an "Under the Sea" event at the Ocean Explorer Centre in Dunbeg (near Oban).
How did you get to this job? Talk us through your route to this role, in terms of education and career?
I got this job by starting in the Digital Learning Team as a Modern Apprentice, and later progressing to the role I am in now.  My previous career experience included a role in IT support, and my education prior to the role included A Levels (approximately equivalent to Advanced Highers) in school.  During my apprenticeship, I also obtained two diplomas (Level 6 and Level 8 in IT and Telecoms) and, in my current role, a Level 8 diploma in Information Security.
How relevant is your degree/highest qualification?
I chose not to attend university and opted to instead gain experience in the workplace; my apprenticeship has given me this and has been a key part of my career progression.
What or who inspired you to study and work in a STEM role?
I have always had an interest in elements of STEM, especially (digital) Technology, which led me to seek a career where I could use my technical skills and develop new ones.  The apprenticeship that led to my current role particularly appealed to me as it involved applying digital and STEM skills in an educational context, passing on those skills to young people and enabling them to develop in these areas.
What is a typical working day like for you and what skills do you use?
My role is very varied so each day is often different and presents both new challenges and opportunities.  Often I provide support to staff or pupils, which can involve visits to schools in person, or virtual/remote support.  In either case, technological skills are often involved, as, in the Digital Learning Team, we make use of technology to explore all elements of STEM.  When I'm not directly supporting education establishments, digital skills are important for supporting education practitioners in using platforms such as Glow and Google Classroom.
What do you enjoy most about your job?
I enjoy the variety of different settings and locations I visit as part of my job, being able to empower both teachers and learners by developing their skills and equipping them with new ones, and having a sense of fulfilment from supporting others' education.
Do you face any STEM related challenges in your job?
As we use technology to explore STEM, the constant development of technology can be seen as a challenge, as we need to be aware of developments and understand how to leverage new technologies in an educational context, but, at the same time, these new developments can allow us to explore new areas or improve our existing learning delivery.
What advice can you give young people looking to work in a similar role or STEM more generally?
Having enthusiasm about what you do and pursuing a career that interests you is important – I would suggest taking advantage of STEM opportunities you have in education, and seeing what areas interest you most.  Then work on developing your skills in those areas and look into career opportunities where you can apply those skills – if you find a role you are interested in, seeing your skills and actions have an impact can be very fulfilling and make your effort worthwhile.  I would also recommend junior or apprenticeship roles as a way to begin your STEM career, as, even without prior experience, showing an employer that you are enthusiastic and willing to learn can be enough to get into a starting role.
What do you love about living and working in Argyll?
I have a lot of appreciation for Argyll's landscape, history, wildlife and, from a career perspective, a positive culture among my colleagues of support, development and collaboration, the latter of which is particularly important for working effectively across Argyll's remote areas and islands.
Challenge
Build a robot (such as by using LEGO kits like EV3 and WeDo 2.0 – the Digital Learning Team can provide these if needed) and create a course for it to follow, with some obstacles to avoid too. Then, program the robot to travel the correct distances and directions to complete the course whilst avoiding the obstacles!
Find out more